Museum Exhibition Dates & Times
*** Opens April 2024 ***
Allow an hour for your visit. Museum artefacts are included in the display.
We are located on the 2nd Floor of the Stephens Green Shopping Centre. Postal Code D02XY76.
Admission Fees Apply
There is no need to purchase tickets in advance.
Entrance from Grafton Street - Stairs straight ahead or Elevator on the right. From the car park, we are at the opposite end of the centre.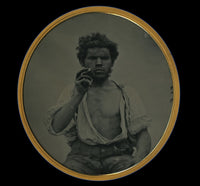 Museum Exhibition Location
We are located on the 2nd Floor of the Stephens Green Shopping Centre.
This is located across the road from the main entrance to Stephens Green Park.
It's a 5 minute walk from Trinity College, at the top of Grafton Street.
As you walk into the shopping centre, there is an elevator about 25 yards inside on the right. Go to the 2nd Floor, then go left.
Famine Museum Artefacts
As news of the first potato crop failure broke in 1845, Newspapers from around the world were soon reporting on it. Ireland's dependence on the potato was unique - as many as 3 million people relied upon it one way or another for their survival.

We include original articles from a British Newspaper called The Globe, which ran from 1803 to 1921, and the Worcester Palladium from Worcester massachusetts which ran from 1840 to 1876.
We also include a pitiful 1850 letter written by a tenant farmer from Carrick-on-Shannon prison to his Landlord, and an 1876 letter from a Father to his Son.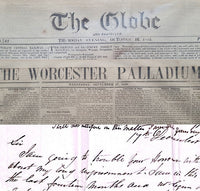 Irish Famine Book
We have recently published a new book based on the content of our exhibition storyboards. This will make a great gift for someone who cannot visit the exhibition. For those interested in the story of the Irish Potato Famine / Great Hunger, it will also act as a great reference book.

You can purchase this book from the Reception desk at our exhibition. If you wish to have the book posted to you, please email us to organise payment and postage.


Testimonials
Heart touching!
A nice exposition about the dramatic event that took place in the 19th century that moved me and sensitized me.

Regis T
A moving and well-balanced account of the famine
A logical, thorough and well-organised education on the Irish potato famine.
The short film was poignant, evocative and brought the history to life. A real tragedy
that this exhibition is not permanent as it is such a devastating and important part of Irish history.

wales101
So Poignant
My mom really wanted to see this so I went along and I'm so glad I did. I knew a bit about the
potato famine but very few details. While the exhibit isn't flashy or very eye catching when you walk in,
the history and information on display is incredible. I went on quite a few tours while in Dublin but didn't
learn as much anywhere else. The story is shocking and sad but is something that should definitely be told.
It took about an hour to read everything and watch the brief video, and the man working at the desk was more
than happy to talk to us more and give us even more information. I would recommend this to anyone.

Lisa R
Reference Manuals
Bien que l'exposition soit en anglais, vous pouvez demander un manuel de référence à la réception. Il est disponible en quatre langues - français, allemand, italien et espagnol.
Obwohl die Ausstellung in englischer Sprache ist, können Sie an der Rezeption ein Referenzhandbuch anfordern. Dies ist in vier Sprachen erhältlich - Französisch, Deutsch, Italienisch und Spanisch.
Sebbene la mostra sia in lingua inglese, è possibile richiedere un manuale di riferimento presso la reception. Questo è disponibile in quattro lingue: francese, tedesco, italiano e spagnolo.
Aunque la exposición está en inglés, puede solicitar un manual de referencia en el mostrador de la recepción. Esta disponible en cuatro idiomas: francés, alemán, italiano y español.
Famine Pot
The famine pot which was used to make soup, is perhaps the ultimate famine memorial and was sometimes referred to as a soup boiler or workhouse pot.
The pots were mainly manufactured in Coalbrookdale in Shropshire, England by the Quaker iron foundry run by the Darby family. They were made of cast iron.
600 pots were supplied by the Government, a further 295 were provided by the Quakers themselves and number of them also came from the United States.
In the summer months of 1847, approximately 3 million Irish People relied on soup from these pots for their survival.
An original cast-iron famine pot from Donegal will be included in our exhibition alongside a number of other museum pieces.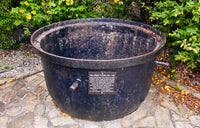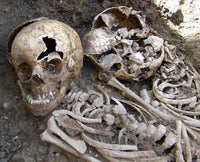 The Famine in Mayo
County Mayo was one of the counties that suffered most in 'The Great Famine' that hit Ireland 1845-1852. In the West of Ireland as a whole, the population declined by as much as a fifth.
December 1847
The English Quaker philanthropist, James Hack Tuke, witnesses the eviction of six or seven hundred people in Erris, Co Mayo. He finds large families living in "human burrows"; they are "quiet harmless persons, terrified of strangers".
The barony's population last year was estimated at 28,000. 2,000 have emigrated and 6,000 died of starvation, dysentery and fever. Of the 20,000 left, 10,000 are on the verge of starvation. "10,000 people within 48 hours' journey of the metropolis of the world, living, or rather starving, upon turnip-tops, sand-eels and seaweed, a diet which no one in England would consider fit for the meanest animal."
Other Famine References in Dublin

The Famine Memorial:
The memorial, which stands on Customs House Quay was created by Rowan Gillespie and presented to the city of Dublin in 1997. The sculpture features six lifesize figures dressed in rags, clutching onto their belongings and children. In 2007, similar figures where unveiled in Toronto, Canada's Ireland Park.
The two memorials to show emigrants leaving famished Ireland for a new life.

The Jeanie Johnston:
Jeanie Johnston is a replica of a three masted barque that was originally built in Quebec, Canada, in 1847 by the Scottish-born shipbuilder John Munn.

Edward Delaney's Famine Memorial:
This famine memorial is at the northeastern corner of St Stephen's Green.

Epic The Irish Emigration Museum:
This Museum covers the history of the Irish diaspora and emigration to other countries.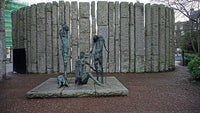 Famine Exhibition
Unit 200B
Stephen's Green Shopping Centre
Saint Stephen's Green
Dublin 2
D02 XY76