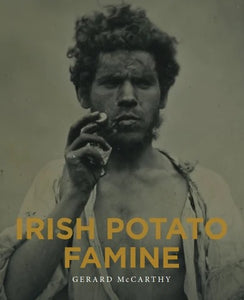 Irish Famine Book
Regular price $25.00 Sale
This Irish Potato Famine book is available to purchase at our exhibition reception desk.
If you wish to have the book posted to you, please email us to organise payment and postage.
The book contains the content of our exhibition plus some additional content.
Like our exhibition, it tells the story of what happened in an easy to understand step by step fashion. Like our exhibition story boards, it is rich in wonderful 19th century photographs and other images.
The cover image above is an early photograph of a Irish Labourer. It was taken in the early 1850s as the Famine was reaching it's conclusion. Unlike many others, this Labourer, whose name is lost to history, survived those dreadful years of starvation and disease.
Irish Famine Book Chapters:
01 Pre-Famine Ireland
02 Blight Arrives
03 Relief Efforts
04 Second Crop Failure
05 Hunger and Disease
06 Soup Kitchens
07 The Workhouse
08 Evictions
09 Private Relief Efforts
10 Emigration
11 Epilogue