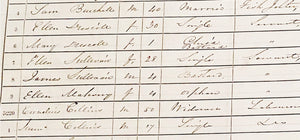 Registry of Admittance and Discharge
Ballinspittle in County Cork is an area that was covered by the Kinsale Union Workhouse.

The 1841 Census states that there were 816 houses in the area, and 654 of these were windowless, one-room cabins, built of mud.

Despite this, the area was described as a prosperous one.

The potato blight was first seen in the area in September 1845....
The workhouse was introduced into Ireland as part of the English Poor Law system in 1838. The British government believed it to be the most cost ef...